Krimmler Waterfalls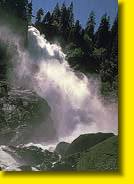 In the year 1961 the Krimmler waterfalls were put under nature protection. Until then it was planned to build a power plant here. In 1966, these waterfalls were awarded the European Nature Conservation Diploma.
The Krimml waterfalls are among the most impressive in Europe and are certainly a highlight when visiting the national park, because they are also among the highest on earth. In three steps the Krimmler Ache crashes into the valley. The total fall height is almost 400 meters. Over the upper Achenfall the water falls 140 meters to the "Schönangerl" down. The Mittlerer Achenfall overcomes a height of about 100 meters and the third, the lower Achenfall, is another 140 meters high.

The climb up to the highest Achenfall takes one hour, to the Mittlerer case you walk 30 minutes, and the lowest waterfall can be reached in 10 minutes.