About us
Excerpt from the Heimatbuch Saalbach – Hinterglemm




Saalbach, 06.06.1924 –

An important and eventful day for Saalbach

Josef Rainer opens the transport of passengers and loads on the Saalbach – Zell am See – Saalbach route with his car – a flatbed truck with wooden benches on the loading area. The local council, the schoolchildren with their teachers and a large part of the population waited at Unterwirt on the arrival of the first passenger and freight transport car. Cheers broke out as Rainer drove into the village with the modern "vehicle". Some true and fictitious episodes are told today even from the first car rides of the first Saalbach car owner. The horse-drawn vehicle of Nikolaus Poschacher had served its day, the traffic to Saalbach was opened.
1959 The year of the takeover of the business by the son Josef Rainer jun.
The first tourists come with winter sports, and with them the first of countless journeys from Zell am See railway station to pick up from the hotel Saalbach – Hinterglemm and back. In the summer months we went with the "Sommerfrischlern" on the Grossglockner and other attractions in the area.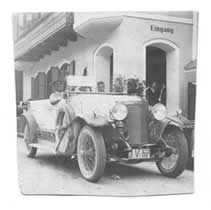 Josef Rainer (our father) concentrated more and more on freight transport and Erdbau and begins in 1964, the earthmoving company Rainer – transports. However, the passenger transport always remained upright, especially in the winter months.
2000 Takeover of the management by the daughter Brigitta Rainer.
In the year 2000 we went with our taxi company the first time online in the World Wide Web. The subsequent increase in sales gave us in our efforts to use the modern medium right.
From the year 2000 until today the taxi fleet was constantly expanded.
01.01.2007 Merger of taxi companies Brigitta Rainer and Josef Rainer jun into Taxi Rainer OG.
Our goal is to make the offer for guests and locals even more service-oriented and economical than before. We are in the winter around the clock, with 8 vehicles for our passengers there. The successes in local and long-distance transport, as a feeder service to airports and train stations are a confirmation of our work.
Taxi Rainer for successful traveling!